The 2014 Winter Olympics are finally over. Things come and go, but the winners and their medals will always remain in the history. However, in an event like this, there's much more than that…
Once again
the Olympic spirit proved that the Olympic Games are like no other sports event
. Along with the great sports achievements, tough competitions – and even some funny fails, –
the Games in Sochi brought an unique amount of positive emotions and sportsmanship.
Let's remember some of the most touching, cutest, and lovable moments at the 2014 Olympic Games!
Two friends, two Golds – Tina Maze & Dominique Gisin
Slovenia's Tina Maze and Dominique Gisin of Switzerland tied for gold in the Women's Downhill event with time of 1 minute and 41.57 seconds. It is the first time this has ever happened, and both winners were more than happy to share the gold with each other.

Mikaela Shiffrin winks
One single move melted millions of hearts around the world: Mikaela Shiffrin winks to the camera. Soon after, the American skier took the gold in the Slalom.

Canadian coach helps Russian skier to finish
Russian cross-country skier Anton Gafarov crashed and broke his left ski. Finishing the race became nearly impossible, but then Team Canada's coach Justin Wadsworth ran onto the course to give the Russian a replacement ski.
"It was like watching an animal stuck in a trap. You can't just sit there and do nothing about it. (…) I wanted him to have dignity as he crossed the finish line", said the Canadian.

All medals to the family
Justine Dufour-Lapointe (right) and Chloe-Lapointe (left) congratulate each other after the Mogul skiing event. The two Canadian sisters won gold and silver.

Winner waits for last-place finisher before celebrate
Dario Cologna from Switzerland won the 15 km Classic Cross-country race. But instead of racing off to celebrate, he stayed around the finish line for the next 30 minutes to wait and congratulate the last finisher in the race – Peru's Roberto Carcelen.

Tina strikes back!
On-podium fun: Lara Gut bumps Tina Maze, and Tina bumps back!

Second gold for Tina Maze
Yet another one from Tina Maze – the unstoppable Slovenian skier won gold in Women's Giant Slalom, which she celebrated with a dive into the Sochi's snow.

"For my brother!"
After Canadian freestyle skier Alex Bilodeau won gold in the Ski mogul event, the first person he celebrated with was his brother Frederic, who has cerebral palsy, but is also the inspiration of the big champion.

Tribute to Sarah Burke
Just Before the Women's Freestyle Halfpipe event, Olympic volunteers skied down the course in a heart-shaped formation in memory of Sarah Burke. She was a pioneer of the sport, fought hard and lobbied to have Halfpipe and Slopestyle disciplines added to the Winter Olympics. Tragically, she died after a training accident in 2012, two years before her dream to compete in Sochi.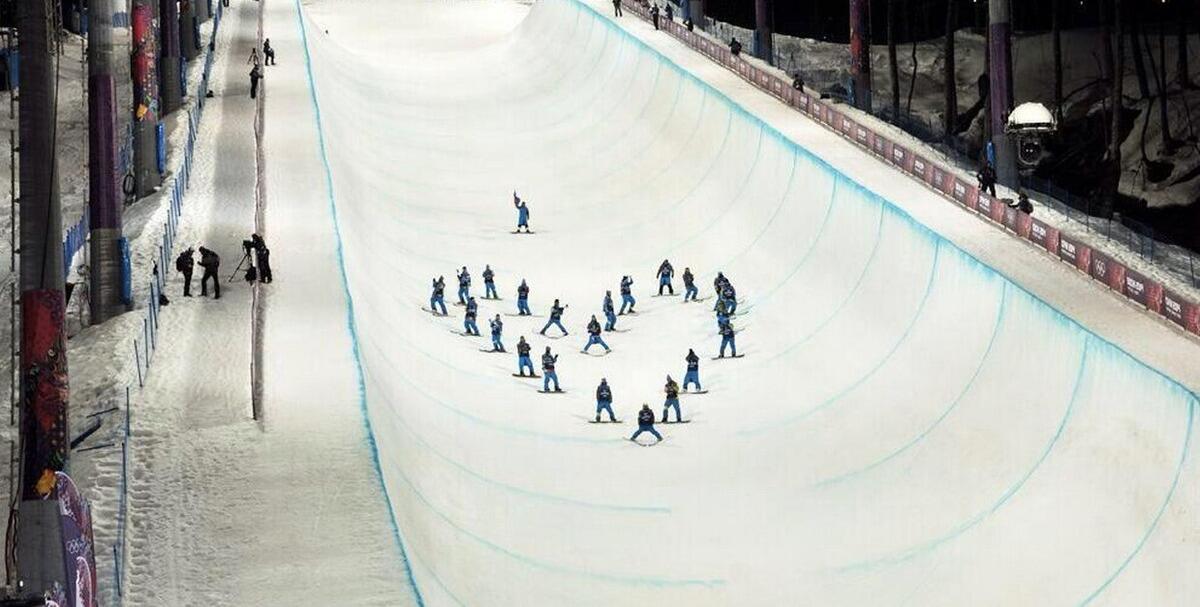 Russia has the best snowboarding couple
Is this the most successful couple competing in Sochi? Meet Vic Wild and wife Alena Zavarzina – they both got medals in Sochi! Vic Wild, who is an American native currently competing for Russia, won gold in Parallel slalom and Parallel giant slalom, while Russian snowboarder Zavarzina took the silver in Women's Parallel giant slalom.

Epic finish in the Ski cross
You can watch this a thousand times. One of the quarterfinals in Men's Ski cross ended with an insane crash and 3-way photo finish. Unseen before.

Kate Hansen's dance
Most coolest warm-up: American luger Kate Hansen prepares for run by dancing. "What she's been listening?", you might ask. It's Beyonce!

Snowboarding fun
You can surely say this freestyle dance comes from the Freestyle snowboarding events.

Eva Samkova and her mustache
Meet Eva Samkova and her lucky mustache. The Czech snowboarder destroyed the competition in the Women's snowboard cross.

Noelle Pikus-Pace climbs the fence
Besides racing fast (and furious), Noelle Pikus-Pace is obviously capable of high climbing. The American skeleton racer won the silver in Sochi and couldn't wait to see her family.

Teamwork above all
Norwegian hockey player Jonas Holos pushes his fallen teammate Mats Trygg off the ice.

Sad bear
The Sochi Bear mascot is sad after Russia's loss to Finland in the ice hockey. Some say that this loss is something like a national tragedy.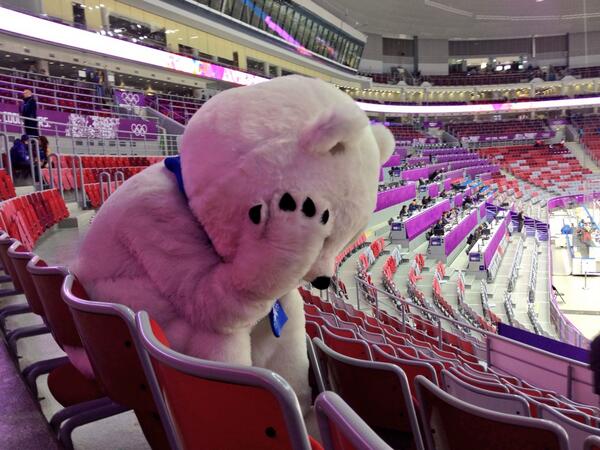 Cute skier adopts cute puppies
U.S. freestyle skier Gus Kenworthy picked up four puppies and their mother on the streets of Rosa Khutor, Russia. Thanks to his silver medal in the Slopestyle event, Kenworthy was allowed to bring all the dogs back to the US with him.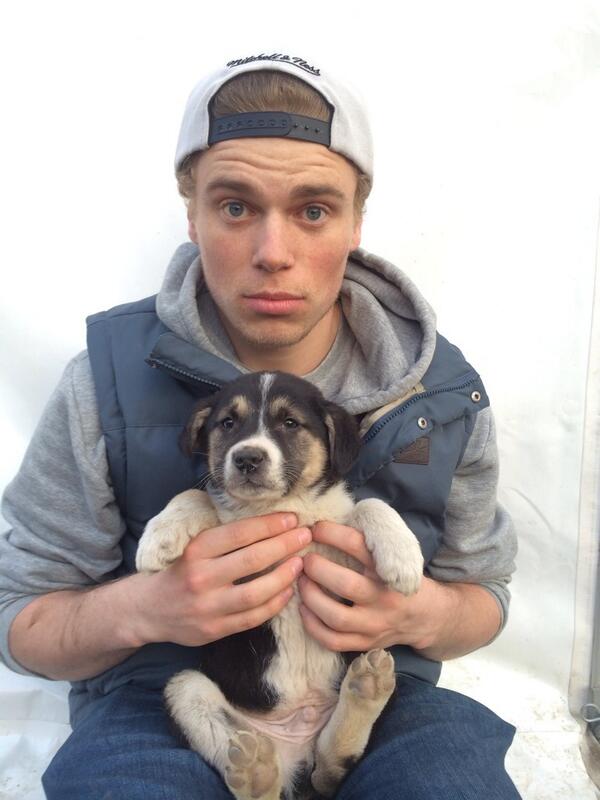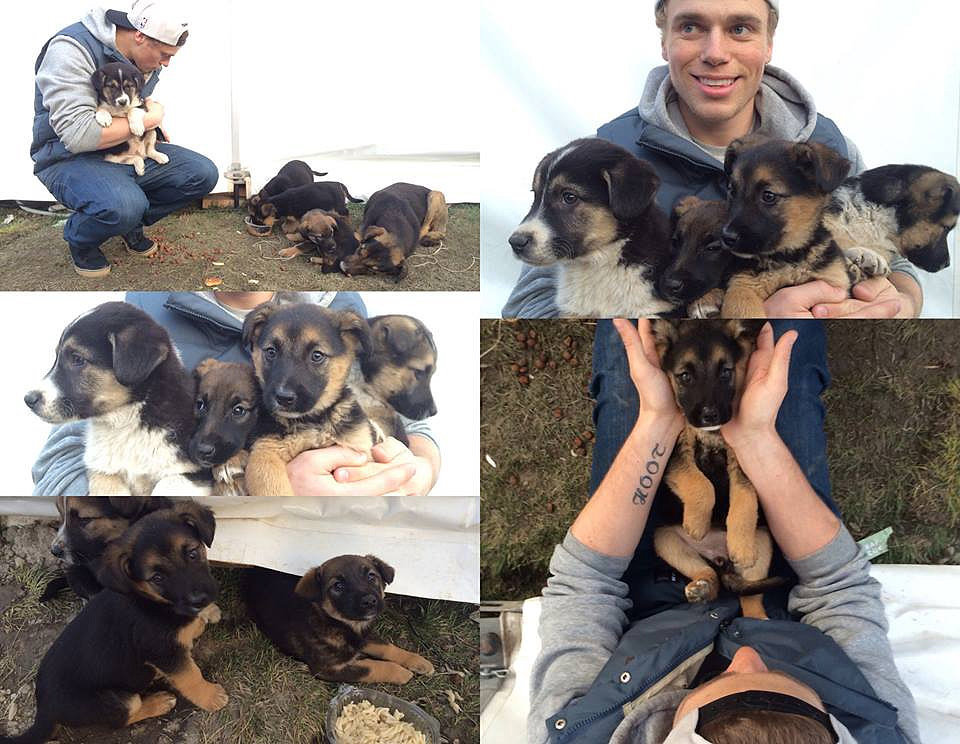 When a child's dream come true
Julia Lipnitskaia is only 15, but she won gold medal for Russia in the Team figure skating competition. Thus she became the youngest athlete to ever win an Olympic gold. The Russian figure skater is already a superstar, and also considered by many even as a phenomenon.

Big champions cry too
Bode Miller won bronze in Men's Super-G, but couldn't enjoy it properly. The U.S. alpine skier started weeping after his post-race interview turned to the death of his brother Chelone, who passed away in 2013.

Tears of happiness
With tears in their eyes while hugging, Norwegian cross-country skiers Marit Bjoergen and Heidi Weng celebrate their medals – respectively gold and bronze – in the for the Women's Skiathlon 7.5 km Classic + 7.5 km Free.

The ultimate joy
Russian pair skaters Maxim Trankov and Tatiana Volosozhar can't wait to enjoy their performance in the Pairs Free Skating event. The couple won gold and broke their own world record, posting a score of 84.17. And obviously, they immediately knew what they just did.

Yuna Kim took the silver… bear
Korea's Yuna Kim made an outstanding performance in the Ladies' figure skating event, but – suprisingly or not – only managed to take silver medal behind Adelina Sotnikova of Russia. At least the Korean got this super cute bear.

Forget the rivalry
During the Women's Slopestyle event, Sarka Pancochova of the Czech Republic crashed very badly and broke her helmet. Rivals started to comfort her to make sure she's alright.

A bow for a goal
Japan's female ice-hockey players celebrate their first ever Olympic hockey goal… with a bow, of course.

Best moment in life?
Elizabeth "Lizzy" Yarnold cries on the podium during the Women's Skeleton medal ceremony. The Britain's athlete won gold.

Darya Domracheva wins third gold in Sochi
Here comes the relief: Darya Domracheva of Belarus enjoys her third gold during the medal ceremony. She is now the first woman with so many biathlon golds in a single Olympics.

Hope you enjoyed the best moments of Sochi 2014! Stay tuned for more! ;-)